Ours is a hand-made bag manufacturing firm selling unique bags all across the world and now expanding our establishment in the largest growing market, India. The eccentricity of our bags is their peculiar prints and the fact that they are handcrafted only to add up to the natural charm of the lovely ladies out there!
After years of dealing in the International Market, for the most part in the US and selling our bags that were in contrast to the perfectly fabricated, machine made bags, we perceived that People like imperfect things. So, we planned to bring our variety of bags to our homeland, India. Their meticulous designs and appealing block prints make them a perfect choice for anyone who is fond of owning a different bag for all day to day purposes, from keeping their make-up essentials to their laptops.
The Stitch Company does innovation to the core and our bags exhibit the same. From our methods of designing to manufacturing of the bags, all are distinctive in nature and foster a positive vibe that reflects in our bags you carry.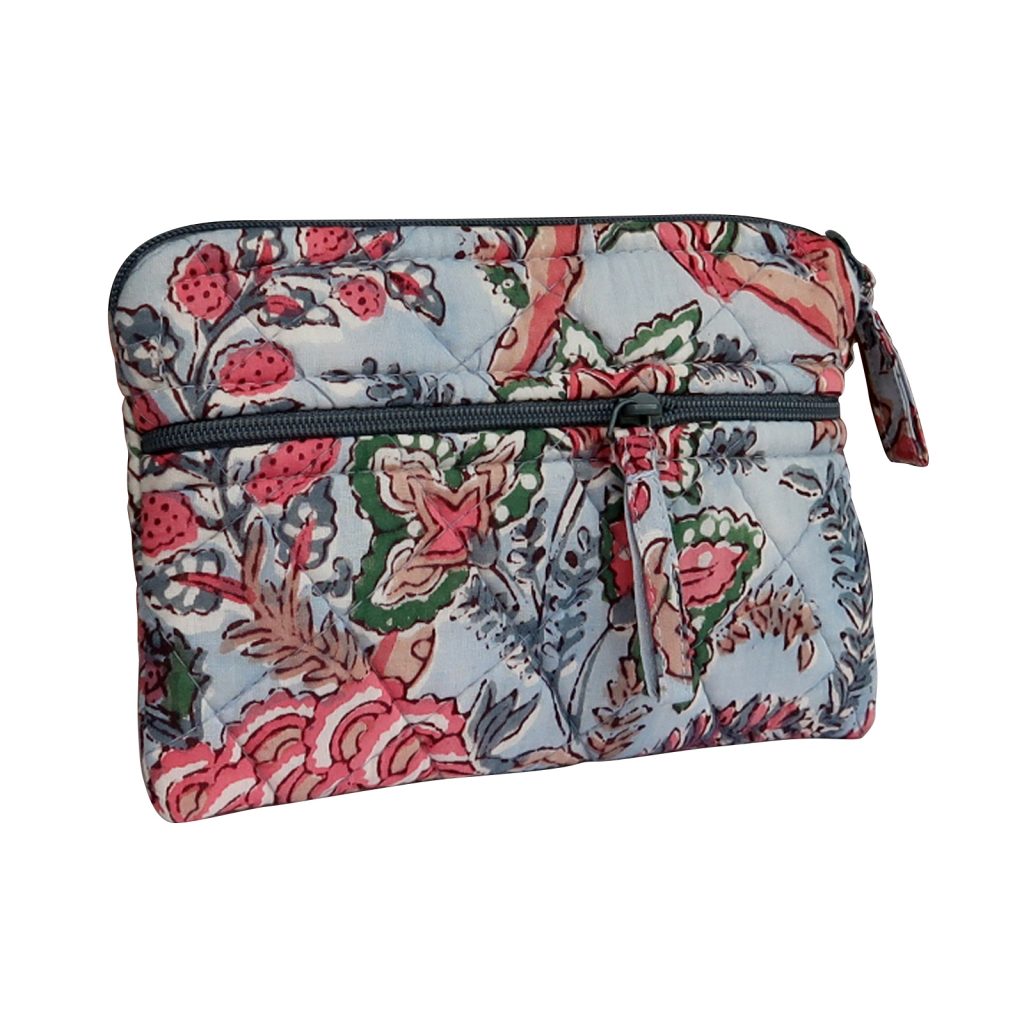 We, at The Stitch Company, strive harder each day to be better than the rest by using cutting-edge techniques and innovation tools.
One of the traits that make us different is our Block Printing technique on our bags that none of our fellow manufacturers in Agra have brought in practice.
We focus on generating employment by hiring craftsmen from around the remote areas of Agra region and training them in the field of printing and sewing bags, thus aiding their household savings. Our motto is to spread good vibes all around. Our manpower as well as our clients is our extended family.
Our bags are of extremely fine quality owing to their foam based structures. When beauty comes with comfort, it becomes a privilege that we wish to offer to our clients to ace their style quotient.
We have a profound belief that one should always do more good in order to receive more good.
For the same, we have tied up with some organizations that work towards giving back to the society in their own, beautiful ways.
One-fourth of what we earn from each sales produce from our esteemed customers goes to special children who wish to learn and grow like a normal child. The Thankyou Card  you receive along with your bags from us is a gesture from those children who are nothing but grateful to you for supporting the cause!
This way, you also become a contributor to this special cause.
WHAT GOES INTO MANUFACTURING OF OUR BAGS
We promote training and development of the craftsmen who put in all their efforts to bring the best out of our bags.
We have two senior tailors who train the manpower working under them. This way, we promote skill development and more employment generation.
Our bags have their own signature patterns, which are different from the cliché designs present in the current market. We use techniques that are strenuous and require skill and innovation. Block Printing and Screen Printing are the two methods of manufacturing that we use.
Block Printing is done using a block that is carved into a beautiful design. The block is then immersed in ink and its impression is created on paper or fabric. In India, it originated from Jaipur in Rajasthan. We take immense pleasure in telling that ours is the first ever firm in Agra to use this meticulous and diligent technique that requires a great deal of patience and time, to make bags that are one of a kind.
Screen Printing uses a mesh or stencil that is semi- permeable, thus allowing just a few portions to let the color flow out. The color is pushed through this mesh and the design is produced.
Both our techniques give out a design that is aesthetically beautiful