THE STITCH COMPANY is here to keep alive the culture of hand-crafted products. If handmade goods cannot compete with factory-made goods, the converse is also true, even the factory-made goods cannot match the charm of handcrafted products. Handmade products have a separate fan base. Many people are tired of using the same factory-made products that are monotonously perfect and dead inside, they are looking for the touch of love and affection of human hands that machine-made products lack. You move into the market and you will find a huge chunk of customers just looking for that one signboard "Handcrafted to match your charm".
 The only problem being the dwindling number of such shops. you might have to search the market for hours to find that one shop that provides you with handmade goods or to your disappointment there not being any such store. When did the machine-made products become so dominant that they threw handicrafts out of the marketplace?
We, at the Stitch company, value your time and longing to get hold of some unique hand-made products. Thus, we have our website where you can find a variety of hand-made bags manufactured by our workers, from the comfort of your homes, anywhere in the world and anytime as per your convenience. We are just a click away at www.stitchcompany.in Our bags are of extremely fine quality owing to their foam-based structure.
We provide employment to craftsmen and artisans from remote areas and give them adequate training so that they can handcraft the best quality bags for our customers.
We manufacture bags of varying designs, the prominent ones being blocked printing and screen printing, and to suit your various needs, from utility pouches to travel kits, tablet sleeve, makeup brush bag, hipster bag and much more. And all these at affordable prices.
3 BAGS THAT ARE A 'MUST TRY':
TRAVEL KIT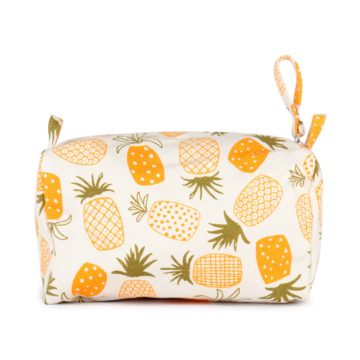 Who doesn't like to travel these days? and if you are a travel freak too, then this bag is for you! Be it a school trip or college trip with your gang, a family trip this summer to some mountainous region, a business trip with the client or even a solo trip for that matter, travelling has taken everyone in its ambit. whether you want to see the Eiffel Tower of Paris, the Taj Mahal in India or the skyscrapers in New York travelling gets us all excited and cheerful.
And one thing that is common in all these is: PACKING your belongings. This can be the most tiring part and if not done smartly can bother you throughout the journey. You want all your essentials to be in one place. You want to avoid the last-minute hustle-bustle of turning over the stuff in all bags to find that one face wash. With the travel kit, you have a separate space for all the last-minute stuff you might need.
If not international travel, take your daily commute for instance, how often do you struggle to find that winter lotion or sanitizer when getting late for office or college. If you store them at one place so that they are Pick-up ready, you save yourself from the daily tension. Our Travel Kit is made for the same purpose, you just know that one place where you will find all your travel essentials. Just get hold of the kit and you are good to go!
Travel Kit is available in the range of Rs.349- Rs.549. In two designs: Amber Pines and Perky Birdie and in large and medium sizes to suit all your needs. Pick whichever you like!
ID Pouch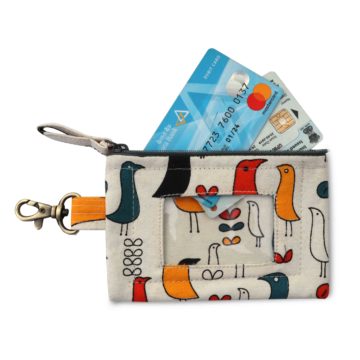 Aadhaar card,
college ID
office ID
driving license
library card
ATM card
Debit card
 These are some of the most essential IDs that you require and the list goes on forever. How many ids do you carry on a daily basis? You never know which one you might have to pull out of your bag.
Suppose you are standing at the bill counter to pay for a new dress you just bought. The queue is long and finally it's your turn to pay and BANG! you cannot find your debit card. There is a lot of stuff in your in the bag for you to get hold of the card that might be lying in some corner of the bag. All the eyes are on you, you are delaying the workings. At last, you have to step out of the queue and search your bag patiently for the card. And probably you found it, but now you will have to join the queue again and wait for your turn.
This can be very wasteful and you will definitely want to avoid getting into such circumstances.
The only solution is to have a secure place for all your ids/cards at one place. The ID Pouch serves the same purpose. your ids are the least space-consuming stuff in your bag, but that doesn't mean you simply dump them in, only to betray you when you need it the most.
You might not get entry into your college/office without showing the id, you might not be able to issue that book unless you find the library card and worst of all the Policeman will not leave you until you show him the license.
The ID Pouch is your convenient place to keep all ids/cards so that they come to your rescue whenever you need them.
Workers at The Stitch Company have specially put their skill and hard work into making these ID pouches, to simplify your lives, with their own hands. That too at an affordable price of Rs. 249 only and in varying sizes and patterns.
BACKPACKS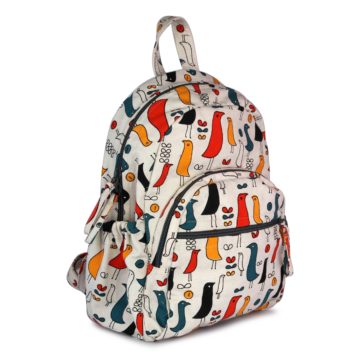 The first thing that comes to your mind whenever you have to step out of the house is 'A BAG' to carry your belongings.
 If you are a college student you would want a modern bag to add to your style, neither too large nor too small, but just the right size to keep your essentials. If you have a trip planned for the coming weekend, apart from the heavy airbag, you would need a 'READY TO CARRY BAG' wherever you go. Even as simple as a visit to the town market/mall, backpacks are the most convenient and comfortable of all forms of carriers. You just put it on and you are ready to go! Both your hands are free to do any other job, you don't require to pull it up your shoulders time and again.
  Backpacks of The Stitch Company are specifically handcrafted to fit all your requirements.
They are manufactured from the finest quality threads and fibre and the foam-based structure makes it very comfortable.
They have various zips and pockets to keep all your stuff and prevent mixing up of all things and a separate bottle holder to keep your things from getting wet due to leakage etc.
The shoulder straps are broad and you will not feel as if you are carrying any weight on your backs.
They are durable, lightweight and easy to carry.
With our backpacks, you don't have to fill your pockets with your stuff. They are spacious and you can choose either a medium or large size with an affordable price of Rs. 999 only, that too in two exciting prints, Amber Pines and Perky Birdie.
These are just a few of the variety of bags manufactured by the workers at The Stitch Company with their own hands, with love and affection. We have all kinds of bags that fit all your needs from keeping your makeup essentials to your laptop:
Tablet sleeve
Phone bag
Personal Accessory Bag
Makeup Brush Bag
Shopper Bag
Flat Round Pouch
Folding Travel kit
Messenger Bag
Hipster Bag
We would definitely like you to check out our products at our website www.stitchcompany.in we guarantee you will not be disappointed. Our designs are different from the cliché patterns and if you wish to stand out from the crowd then our bags are just the right choice you will make.
We are a few of those who still believe in the eccentricity of handmade products and are striving to protect handicrafts from vanishing completely. And our only motto being to GIVE MORE THAN YOU TAKE, a certain percentage of what we earn through our sales goes for the special children who wish to learn and grow.