Don't you feel guilty using plastic bags for every small shopping you go? Do you know every year how much pollution is caused due to plastics bags? Wake up!
According to Waste Management, only one per cent of plastic are returned for recycling. That means that the average family only recycles 15 bags a year; the rest end up in landfills or as litter. These bags end up in the oceans killing many marine animals, about 250 different species are being affected by the plastics in the ocean, one in three leatherback turtles have been found with plastic in their stomach. What did these little creatures do to us that we have been torturing them only because of our carelessness?
Image Source: NoPlasticOceans.com
Its high time that we reduce and remove plastic bags completely from our life and switch to the handmade cloth or stitched bags. These bags are eco-friendly, durable, fancy and fun looking. They do not harm the environment nor your pocket, by switching to these you can save your expenses on plastic bags every time you go shopping. Many of the stores have now started charging the plastic bags too. So rather than spending your money on plastic bags every time you go to store just do one investment on a cloth bag and save your money there and also our mother earth.
These bags are super cool and funky and reflect the choices and taste of the one having it. Not everyone will have these bags as they are customized and fewer in quantity; so the ones having them are the unique ones. Most of the celebrities are now switching to handmade or customized bags as they want to stay different and unique from others. Don't you want to? As these bags are made up of cloth, jute or fibre they automatically have a special and catchy look. Designs are either painted, embroidery, stitched, block or screen printed which makes it look more beautiful. The creator dedicates many hours, passion care and love in creating these unique pieces.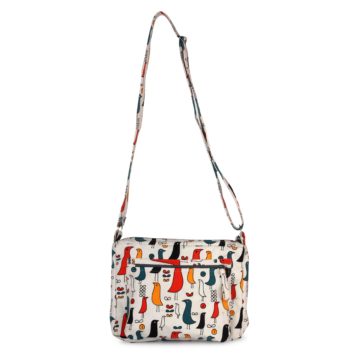 These bags are durable, they can carry much load or heavy items, unlike plastic bags which tears off easily. They are washable, foldable and reused. If your bags turn dirty and untidy due to the regular use; you can simply wash them with water and soap and it turns back to your brand new bag, and when you don't need them you can fold them or simply hang in your wardrobe or stand. Not only that they are also waterproof on the inside, even though it's a cloth bag, but the creator also keeps it padded with foam so that it doesn't damage your things inside if it gets wet. What else do you need? Do you still prefer plastic over handmade cloth bags? Let's take these little steps on saving our mother earth and make a plastic and pollution-free environment.
Aren't these bags cool and trendy? These bags are from THE STITCH COMPANY, they stitch these fresh and fun looking bags from the finest material and is sewed with pure love and care. They use block printing, one of the oldest and diligent techniques and screen printing for creating these cool prints on these bags. They believe in 'give more than you take', one-fourth of what they earn is given to special children who wish to learn and grow like a normal child.