We all are a part of the perfectly imperfect world having different lifestyle, background, culture, taste and preferences.   We dress in various accessories that offer unlimited opportunities for clothes, helping you to do the best of each item you have. But accessories like handbags are some important details to complete your every appearance.
Handbags are an expression of who we are and where we belong in social, economic and fashion terms. As our most visible fashion accessory, our handbag is symbolic, conveying to others the tribe to which we belong. A form of self-expression and indicator of personal style, handbags are also an entry to luxury and allure. Almost all women agree that handbags are important and many loves shopping for them and wearing them.
Image Source: Kovet.in
HOW ARE HANDBAGS USEFUL?
1. CONVENIENT TO CARRY YOUR TAPPINGS
Women can easily carry their important personal belongings along with her. You can easily keep your medicines, wallets, cosmetics and many other valuables which they need on a daily basis. Carrying your stuff in a small handbag helps you walk more freely and feels comfortable. It promotes relaxation and you can pay attention to your surroundings.
2. MODERN AND FASHIONABLE
Fashion is an art and you are the canvas. Handbags are a part of female accessories that provides different ways to style themselves and make them look the most gorgeous lady. Handbags come in different colours and style. Women can select any of them based on the occasion, their dress and style. A proper handbag will add more charm and glamour to a female's personality.
3. ESSENTIAL IN TODAY'S BUSY WORLD
The handbag offers various relaxations to working women as they can keep their essentials once in a bag and use it for a longer time. It saves their time and efforts and helps them to complete their task more effectively and efficiently. The different varieties of luxurious and designer handbags – for office, travelling, sports safety, computer or cosmetic are a part of daily routine now.
4. AMPLIFY YOUR PERSONALITY AND CREATES COMMUNICATION
What corona vaccine is to COVID-19is the accessories to your dressing. It's the only thing that glitters your personality and makes it blossom like a flower in the spring season. It even initiates a conversation by complimenting something nice about the person.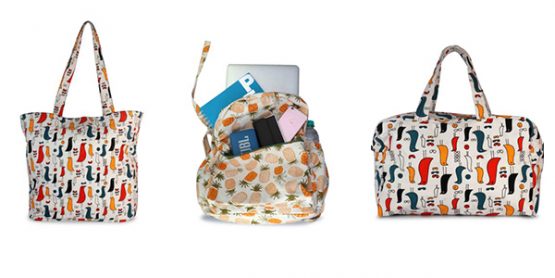 HANDMADE BAGS AND IT'S DEMAND
Handmade bags are the most unique items that had gained worldwide popularity in recent years. The basic reason that stands here is the beauty and creativity in the bags that are sewed by the artisans themselves. This involves their dedication of efforts, time and manual craftsmanship to each item manufactured.
THE STITCH COMPANY provides such unique bags with diversity in them for various purpose. The innovative and creativity that goes in handmade bags provide surety of usage of best fabric materials and block printings.